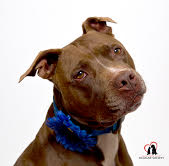 NAME – Darla
AGE:  2 years 1 month
BREED:  Staffordshire Bull Terrier Mix, Brown & White
SEX:  Female
WEIGHT:  55.6 lbs
Beautiful Darla is a charmer. She is happy, outgoing and loves to lounge around in the sunshine. Give her hugs, cuddles and snuggles and she is the happiest girl around. Out in the yard, she'll roll over in the grass and be so happy about life. She explores the yard and then is ready for some play time with toys. Squeaky ones are the best for Darla. Darla walks nicely on a leash too. We do highly recommend a dog to dog meet and greet for any multiple dog households out there. Other than that, any nice home would be great for Darla. She seems pretty easy going. Come meet Darla today to see if she's the perfect match for you. Every day is a great day to adopt!
NAME – Kitty
AGE: 7 years 9 months
BREED:  Domestic Shorthair Mix, Black & Grey
SEX:  Female
WEIGHT: 12.9 lbs
Say hello to Kitty! She's a 7-year-old Domestic Shorthair mix that's been here for way too long! She's been here for 7 months and we can't figure out why! She ended up in the shelter when her owner passed away. She's a friendly kitty that was the only cat in a home and that's the way she seems to prefer it. She likes to spend her day snuggled up in a cozy spot. Once she knows you, Kitty likes to get pet and may even want to touch noses with you! Won't you give Kitty a chance to find a new home she can call her own? Every day is a great day to adopt!
All animals are health checked, spayed/neutered, vaccinated and microchipped. Check out our website at www.smvhs.org and visit us at 1687 W. Stowell Rd in Santa Maria. SMVHS is open 11am to 6pm Wednesday through Sunday. Call us at 805-349-3435