DJ Cortez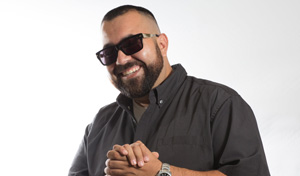 DJ Cortez
Monday-Friday, 3pm-7pm
What is your name?
DJ Cortez aka 250 lbs of body! LOL
What is your hometown?
Santa Maria, CA.
How long have you worked in radio?
12 Years
What is your favorite thing about working in radio?
The Music, meeting artists, and DJ'in live on your radio….and tryin' all the promo food that comes out! Why lie.
What is your all time favorite album and why?
Tupac All Eyez On Me… I grew up on 90's Hip Hop and Pac's music had something that touched you in one way or another.
If you could have dinner with any famous person, who would it be?
Stevie J (Love & Hip Hop ATL) because that dude is unpredictable! LOL I see you ma!!!
What's your favorite food? Tacos Al Pastor… Aye Que Delicioso!!!!
What is your favorite thing to do when you are not on air?
I love long walks to the bank and you paying for dinner…. LOL JK I love to DJ in my spare time or working on my 1965 VW Convertible Bug.
What do you love most about living on the Central Coast?
The BBQ, The Beach, and the weather!
[episode id=306]