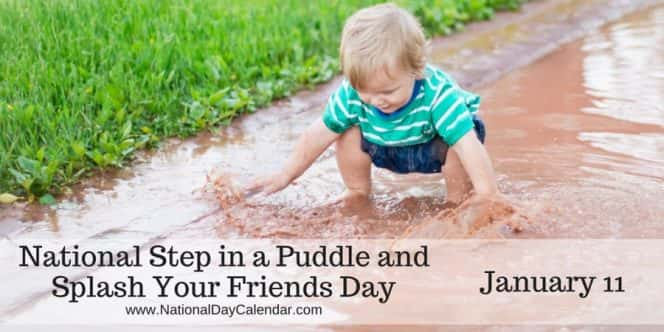 January 11th
National Arkansas Day

NATIONAL STEP IN A PUDDLE AND SPLASH YOUR FRIENDS DAY

Can we really?  The name of the day says you can!  Life is short….let's have fun!

If you are feeling somewhat mischievous (in a nice kind of way), join in on the celebration that all kids will love and all the young-at-heart adults will love just the same, as we celebrate National Step in a Puddle and Splash Your Friends Day.  Celebrated annually on January 11, this day can be a little bit tricky depending on where you live, as at this time of the year, many of the puddles could be frozen!

HOW TO OBSERVE

Look out for some puddles so you can splash your friends. Use #StepInAPuddleAndSplashYourFriendsDay to post on social media.